MEET THE PROGRAMS TEAM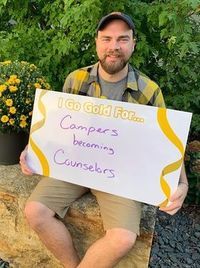 Conar Reed
Camp Director - Conar@ChildrensCancerConnection.org
Conar is from Cedar Falls, Iowa, where he spent most his time listening to blink-182, playing fantasy role-playing games, and delivering pizza. An alumnus of the University of Northern Iowa, he took his time earning his degree as he attempted to tailor his studies to fit the dream of being a "professional camp counselor." As CCC's Camp Director, it looks like he did alright. Conar was an oncology camper at Camp Heart Connection, and has been attending Camp since 2004. He now leads all of Children's Cancer Connection's camp and retreat programs. When he's not camping, his favorite hobbies can be summed up by two things: Dungeons and Dragons and The Lord of the Rings. On the rare occasion that his head isn't in the clouds of medieval fantasy worlds, he enjoys hiking, archery, eating peanut butter, and spending time with his family and pets. Also, he is a grandma's boy and proud of it.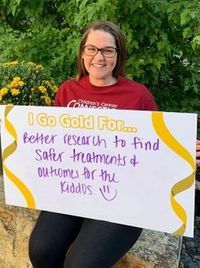 Bailey Moore
Family Programs Coordinator - Bailey@ChildrensCancerConnection.org
Bailey was born and raised in Boone, Iowa. She graduated from the University of Iowa with her Bachelor's Degree in Psychology and Human Relations and then moved to Des Moines in 2014. Outside of work, Bailey and her husband Kurt enjoy taking their yellow lab named Georgia to parks with their boys Keaton and Brody, going out for ice cream, visiting friends and family, and having movie marathons at home. Bailey started at Children's Cancer Connection in March 2019 where she schedules and plans events for the children/families at the Hansen Home for Hope and throughout Central Iowa.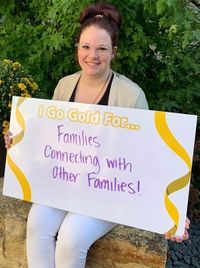 Jourdan Reed
Family Programs Project Manager - Jourdan@ChildrensCancerConnection.org
Jourdan was born and raised around Cedar Falls, Iowa. After high school she attended University of Northern Iowa to study design and project management. In her free time she enjoys anything that involves being crafty (i.e. quilting, crocheting, wood burning, painting, drawing, etc.) She also dabbles in video games and board games such as World of Warcraft, Dungeons and Dragons, Untitled Goose Game, Pokemon, etc. She never misses an opportunity to make fun of herself, crack a dad joke, or whip out a punny phrase. Jourdan has an Instagram account for her dog, Hayden, and cat, Ren, which she loves very dearly. Her "paw-dience" is growing. *shameless plug – @ren_and_den* She loves working at Children's Cancer Connection and being able to spend her time getting to know and interact with all of our families!