BEADS4BRAVERY
A child's cancer treatment includes countless medical procedures and experiences. The Beads4Bravery program is a way for children to collect beads that symbolize each step of their cancer journey. Each child ends up with strings of beads that tells their own unique story.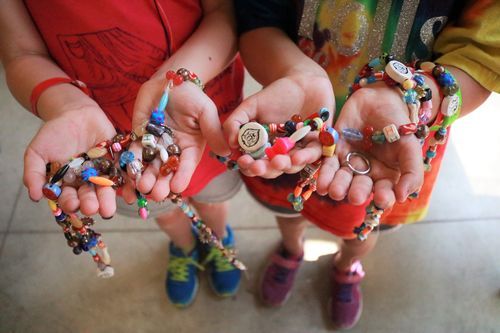 For information about Beads4Bravery,
please contact us at Support@ChildrensCancerConnection.org or 515-243-6239.
BEADS4BRAVERY
ORDER WISH LIST
Participation in the Beads4Bravery program is easy right from the start. A hospital or clinic staff member starts the patient with beads that spell their name, a bead representing their cancer diagnosis, a Children's Cancer Connection bead and a bead that is unique to the hospital where they receive treatment. The Beads4Bravery Legend and Tracking Tool help the patient track other milestones along their journey. Collecting beads they've earned can be done during clinic visits or hospital stays. The personalized strand of beads will be a keepsake and tangible symbol of the milestones, emotions and accomplishments along the way. The Beads4Bravery program is designed to remember each new step in the entire childhood cancer journey.
The Children's Cancer Connection Beads4Bravery inventory is always ebbing and flowing as the requests for beads is forever ongoing. If you would like to assist in maintaining our Beads4Bravery inventory, please click on each picture below to order. **Not all Beads4Bravery beads are shown below** All help is appreciated!
All bead orders can be shipped to 2708 Grand Ave, Des Moines, IA 50312 Attn: Cassidy Utesch.