ONCOLOGY CAMP

Camp Heart Connection's Mission
Camp Heart Connection's mission is to provide campers affected by childhood cancer and
their families a secure environment to connect, grow, and create lifelong memories.
**Hello CCC Families. This is a very important announcement. Due to recent health concerns brought to CCC's attention from our team of medical advisors, the difficult decision has been made to adjust camps and no longer offer Sibling and Oncology camps as currently planned. Moving forward, we have created a new in person Camp experience for this summer that will involve the entire family. To learn more about the cancellation and our alternate camp plans, please read your email or check out our website for more details. CCC is determined to offer in person Camp programming to all of our amazing families such as yourself and are still looking forward to a great Camp year! Click the link HERE to read more.**
Summer Camp Registration Is Now Open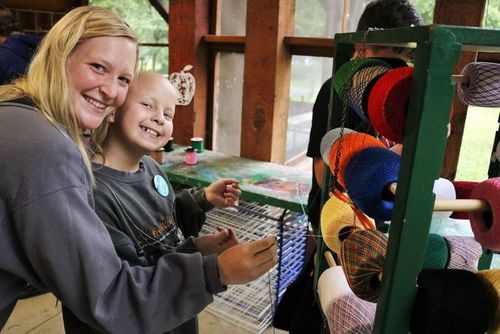 Camp Heart Connection's Oncology Camp is a true summer camp experience, with activities including rock wall climbing, arts and crafts, horseback riding, and more. A week of summer camp is something every child should be able to experience. Oncology Camp allows for children who are on or off treatment to attend a week full of typical summer camp activities and so much more. Worried that your child won't fit in? Campers who have attended before demonstrate that all campers understand the childhood cancer journey. In fact, survivors are often inspiration for kids who are newly diagnosed. Our staff is trained to be sensitive and supportive to all campers, and medical professionals are on site 24/7 to meet medical needs. Best of all, Oncology Camp is free to attend. Once a camper comes to camp, whether for one week or their entire childhood, they will forever be part of the Camp Heart Connection family.
Thank you to our 2021 Lead Camp Supporters, Greenland Homes and University of Iowa Dance Marathon, and our Camp Activities Supporter, Lexi Stiles Memorial Golf Tournament and our Health Lodge Supporter, Blank Children's Hospital.