ABOUT

Camp Heart Connection's Mission
Camp Heart Connection's mission is to provide campers affected by childhood cancer and
their families a secure environment to connect, grow, and create lifelong memories.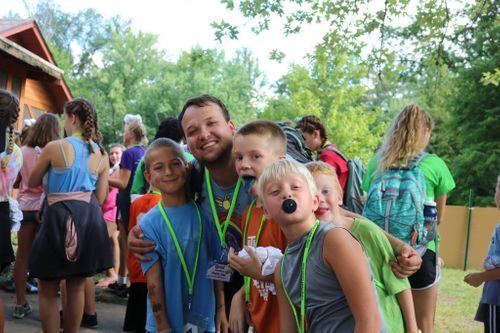 Camp Heart Connection encompasses all of the year round Camps Children's Cancer Connection has to offer. Camp Heart Connection is a home away from home. It is a magical time where children and their families affected by childhood cancer have the opportunity to connect, grow, and create lifelong memories. Beyond that, it is a safe place where everyone is given the opportunity to meet other campers who understand what they're going through, regardless of where they are in their journey. Camp builds confidence and a sense of belonging in campers through trust, community, and empowering experiences. Once a camper comes to camp, no matter which session, they will forever be part of the Camp Heart Connection family.
"I'm old enough to have been able to watch my first group of campers grow up together and impact each other's lives in a huge way. I've gotten to foster relationships with these kids and they're just as much a part of my family as they are part of each other's. Family is the reason we all continue to come back." – Matt Dutton, Camp Counselor
IMPORTANT ANNOUNCEMENT
Due to recent health concerns brought to our attention by our team of medical advisors, the difficult decision has been made to adjust Camps and offer an alternative option to Sibling and Oncology Camps. We created a new in-person Camp experience for this summer that involves the entire family. Learn more here.
We're committed to providing programs and activities that all of our amazing families can look forward to. If you aren't able to attend one of the four family Camps this summer, please look at our other events and activities to get involved with..
We've also outlined some helpful Camp FAQs here.
Summer Camp Registration Is Now Open
Camp Heart Connection's Core Values
B.E.S.T
Belonging - Camp is a family where you can connect with others who understand what you're going through.
Empower - Camp provides opportunities to build confidence and experience everything that camp has to offer.
Security - Camp has a culture of safety, respect, and emotional well-being.
Trust - Camp expects everyone to do the right thing and to take care of each other.
Questions?
Email Camp@ChildrensCancerConnection.org
Call 515-243-6239