Children's Cancer Connection purchased a new facility in December 2021 at 5701 Greendale Road in Johnston in response to CCC families' requests for a more ADA-accessible facility, adequate on-site parking, and the need for larger programming space and outdoor recreational green space. Upon move-in, staff identified additional ways to improve upon the new Jeff and Deb Hansen Home for Hope. This spring, interior renovations and construction of an inclusive playground will take place, improving and expanding CCC services to Iowa families affected by childhood cancer.
The CCC Renovation and Playground project will feature:
Bathroom Remodel: Four individual bathroom spaces will be upgraded to be fully ADA-accessible and more inclusive.
Kitchenette Renovation: The kitchenette will be completely renovated and updated, including the addition of a large preparation surface, double ovens, full kitchen sink, microwave, and refrigerator. These improvements will allow CCC to provide programming for children and families to explore healthy eating and cooking habits, and to create bonding experiences in the kitchen environment.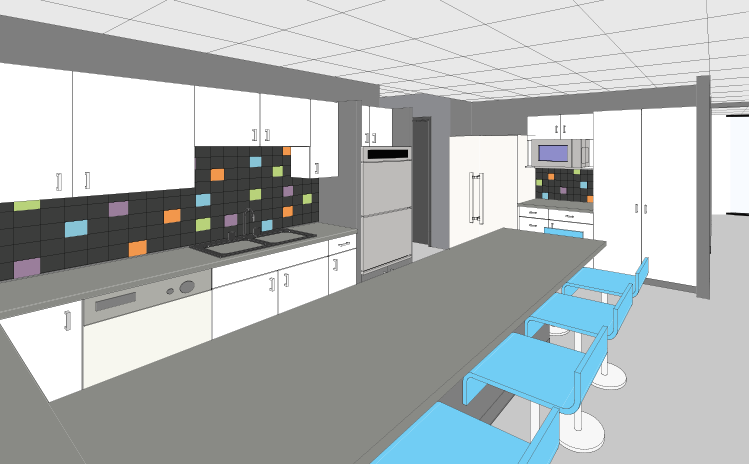 Multi-Purpose Room/Teen Room: The multi-purpose room will be overhauled and will feature a new drop zone with cubbies. Cabinets, a sink and a beverage center will serve program participants. New luxury vinyl plank flooring will be installed, which will be especially helpful for cleaning up spills in the art corner. A new separate Teen Room will be added next to the multi-purpose space.
Conference Room Remodel: This remodel will give staff and families more space for support programs. It will also help staff with preparing for large-scale programs and initiatives such as packing camper boxes, filling bags for summer campers, wrapping Winter Wishes gifts, etc. A new beverage center will also be added.
ADA-Accessible Outdoor Playground: Equipment will include a merry-go-all, an accessible forward-facing spin wheel which remains stationary so children can work together to turn it themselves, an arch swing, a multi-user swing which helps children interact with friends as they experience movement, music panels, an overhead climber, slides and more. A poured-in-place rubber surfacing will ensure ease of access for all users; it is durable and maintenance-free.
Other improvements to the building will include exterior enhancements, new landscaping, new office cubicles, updated ceiling tiles and energy-efficient LED lighting; and signage. The main phase of this project is expected to be completed by late May.
Future phases, pending additional funding, will include an outdoor sport court and a ribbon-shaped walkway to serve as a reminder of those who battle childhood cancer. The goal is to complete those features by fall 2023.
The Jeff and Deb Hansen Home for Hope will be closed for construction March 13 through late May. Updates will be posted regularly. Please call 515-243-6239 for inquiries or email us. CCC staff will be working off-site during this time. Any scheduled programs will occur as off-site outings. Please hold any item donations (snacks, blankets, etc.) until we reopen, or if it cannot wait, please call 515-243-6239 to make a delivery appointment. Thanks for your patience as we work on these very exciting improvements!
Children's Cancer Connection thanks the Deb and Jeff Hansen Foundation, Variety – the Children's Charity, the Polk County Board of Supervisors and several other generous donors for their incredible support of this project. Interested in supporting the renovation and playground efforts? Email CCC Chief Development Officer Sarah Jungers.
Video courtesy of Robert Zortman.