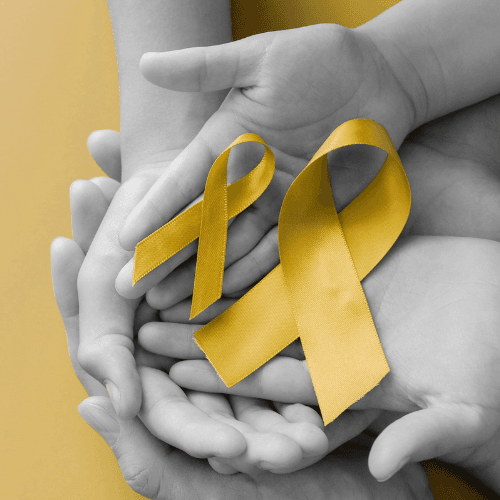 Childhood Cancer Awareness Month (CCAM) is recognized every September by childhood cancer organizations around the world, including CCC!
With a goal to increase awareness and raise funds for those affected by childhood cancer, CCC encourages you to Go Gold® during September in honor and in memory of kids with cancer.
To help achieve that goal, please learn and share these childhood cancer facts:
Childhood cancer is the leading cause of death by disease in children.
1 in 285 children in the U.S. will be diagnosed with cancer before their 20th birthday.
In the U.S., 47 children per day or 17,155 children per year are diagnosed with cancer.
The average age of diagnosis is 6 years old, compared to 66 years for adults' cancer diagnosis.
2/3 of childhood cancer patients will have chronic health conditions as a result of their treatment toxicity, with 1/4 being classified as severe to life-threatening.
In the last 20 years, only four new drugs have been approved by the FDA to specifically treat childhood cancer.
The National Cancer Institute recognizes the unique research needs of childhood cancer and the associated need for increased funding to carry this out.
Learn more from the American Childhood Cancer Organization.
There are many other ways to Go Gold as well! Here are a few ideas:
Businesses

Donate a portion of sales or tips from a specific product to CCC or a similar organization.
Schedule a jeans or casual wear day for employees who donate to CCC or a similar organization.
Sponsor of join us for Go Gold & Golf on Friday, Sept. 16

Schools

Display a gold ribbon.
Schedule a "Go Gold" dress up day during school or at a sporting event to raise funds and awareness!

Individuals

Volunteer with a childhood cancer organization. See CCC opportunities here.
Join us for Go Gold & Golf on Friday, Sept. 16
Share our Childhood Cancer Awareness Month social media posts during September.
Donate to CCC so we may continue providing support to Iowa families affected by childhood cancer!

Communities

Light up a facility or landmark gold for CCAM.
Issue a mayoral proclamation. (To request one from your city, download a template and submit to your city hall/website.)
Learn more about a couple other local childhood cancer-related organizations:
And, join Kid Cancer Crushers on Sunday, Sept. 18 for Party at the Park in Waukee; half of the proceeds will go to Children's Cancer Connection.