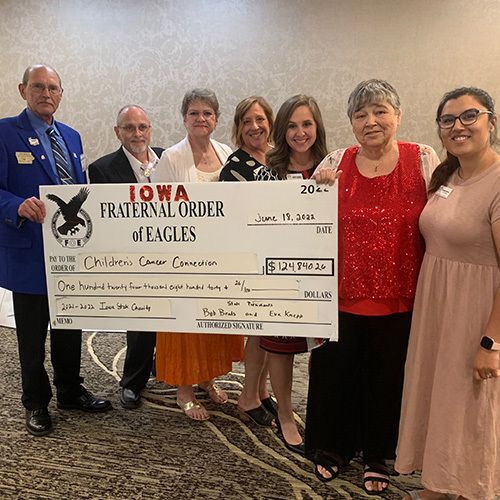 On June 16, the Iowa State Fraternal Order of Eagles gifted statewide nonprofit Children's Cancer Connection (CCC) $124,840.26. CCC was the organization's 2021-2022 State Charity under Presidents Bob Beals (Des Moines) and Eva Knepp (Iowa City). CCC representatives accepted the generous donation at the Iowa State Convention held in Des Moines.
"Both CCC and the Eagles support the entire state of Iowa," said CCC Events Manager Christina McCleary. "Our partnership helped spread awareness. The CCC team truly enjoyed traveling to all the charity nights, getting to know people in all the communities, and creating relationships along the way. We know we have friends across the state supporting our mission, which is awesome!"
The gift will help further CCC's mission to serve Iowa families affected by childhood cancer by funding equipment and supplies for CCC's support programs such as Kids Club, Comfort Connection and Teen Lock-Ins; Camp Heart Connection, which provides an annual fun escape for campers where they can bond with those on similar journeys; and the My Journey Series which as an in-hospital/clinic program that provides a binder full of resources, the Beads4Bravery program for kids in active treatment and more. Children's Cancer Connection commits to serving the entire family for the entire journey.
"This generous gift ensures that Children's Cancer Connection will continue to provide programs free of charge," said CCC CEO Jennifer Hines. "While we offer more than 60 different program opportunities each year, we often measure gifts in 'kids to camp'. A gift of $500 covers 100 percent of the cost to send one child to camp for the week, so this particular gift is enough to send 250 children to camp… 250! We typically host 500 campers total between one week of Oncology Camp and one week of Sibling Camp. This gift fully covers one weeklong camp session!"
The Fraternal Order of Eagles is an international non-profit organization which unites fraternally in the spirit of liberty, truth, justice and equality, to make human life more desirable by lessening its ills, and by promoting peace, prosperity, gladness and hope.
The Iowa State Eagles carry out fundraising at various levels throughout the year. At a local level, Eagles members raise money for their communities. At the State level, a charity each year is chosen by the State Worthy and Madam President. Over the past year, chapters from around the state of Iowa conducted special event nights dedicated to raising money for CCC. Denise and Kent George, from Waterloo, served as the 2021-2022 Charity Chairpersons. The couple estimates they put more than 4,500 miles on their vehicle traveling to and from each local charity event!
Left to right in photo: Iowa State FOE representatives Bob Beals, Kent George and Denise George, CCC CEO Jennifer Hines, CCC Director of Development Sarah Jungers, Iowa State FOE representative Eva Knepp and CCC Development Manager Christina McCleary.