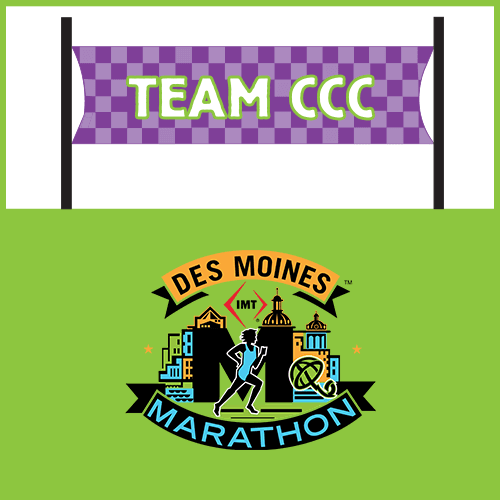 Children's Cancer Connection (CCC) has a fun and exciting way for supporters to help fundraise for the organization. By joining "Team CCC," runners can raise funds for a good cause, earn fun prizes and get some exercise in the process.
Those interested in joining Team CCC can sign up now! Once a Team CCC participant raises $200, they will receive a promotional code for a free registration for the October 16 IMT Des Moines Marathon or Half Marathon!
Other fundraising prizes include:
$50 - CCC sticker for race day bib or water bottle
$100 - Team CCC Shirt
$200 - Race Registration for the IMT Des Moines Marathon or Half Marathon (Please wait to register until you've received the free registration promo code. CCC is not able to reimburse you once you've signed up without the code.), or a CCC window decal if not running
$500 - Surprise CCC merchandise bundle
$1,000 - Personalized recognition sign at CCC's water station on October 16
For each $100 raised beyond $1,000: one entry into a drawing for a running store gift card
Not a runner? No problem. Supporters can still be on Team CCC for FUNraising and prizes! Or, volunteer at the CCC water station or finish line. Children's Cancer Connection is the official charity partner of the IMT Des Moines Marathon.