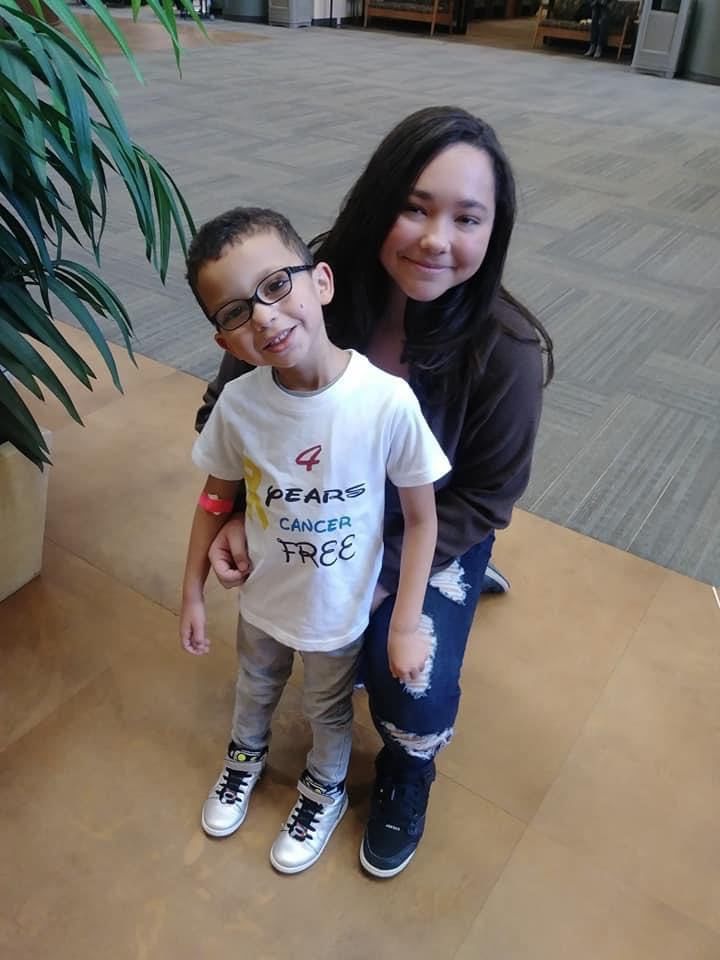 During Childhood Cancer Awareness Month, we're featuring stories from the families we serve that have been affected by pediatric cancer.
Meet Amara Shade, sister of a pediatric cancer survivor and CCC family member.
"A kid having cancer doesn't only change them, but those around them. My youngest brother Marquez was diagnosed with cancer when I was ending my last year of elementary school. As a kid who hadn't known much about cancer all I knew was I was fear-ridden. I heard about the kind of cancer that people don't survive and that was all.
Seeing him and knowing he was sick changed a lot of the things we did. Because of the pandemic, everyone knows about masks and having pocket-size hand sanitizers everywhere you go, but that was normal for us once my brother was diagnosed. Small colds became a much bigger deal when it came to Quez, and we'd almost quarantine ourselves to ensure he was safe.
At times it was easy to feel misunderstood. Even with four siblings other than Marquez, it still affected us all differently. I became anxious about many things, worrying about how much water he drank or if he felt sick, and I'm like that even now.
I have very clear memories from his chemo appointments that I'll never forget, like how he cried before. And how he had become so used to the process that he didn't cry. It was sad to see him so young yet not so childish. I grew up with so many kids and I had never seen them so exhausted that they would turn down ice cream or fries, and he did. 
When he started to get better it was almost as if seeing him grow up was so much different than my other younger relatives. It makes me so happy to see how much he's grown, knowing he doesn't know how different it had been all those years ago.
Now he's going into third grade and I can't begin to explain how great it is to see him grow into the person he's becoming and will be. I'll always see him as a reason to reach my goals and work hard towards things as I'll never know when or what kind of obstacles I'll face. Because of Quez though, I know I'll always have hope in getting over those obstacles and accomplishing the happiness and peace everyone deserves. 
Lastly, CCC was one thing I'll always be thankful for throughout his journey. As kids who didn't know how to feel, CCC surrounded us with others who made it not only easier to understand what was happening but easier to understand ourselves and our feelings. We've made life-long friends, and the volunteers and workers with CCC have created amazing, life-changing memories despite going through one of the most confusing times.
As a CHC camper, and a kid who has been changed by both cancer and CCC, I am forever appreciative and grateful for those who help find happiness for kids and their families throughout and after such hard times."
Thank you to Amara for sharing her perspective as a sibling of a childhood cancer warrior!