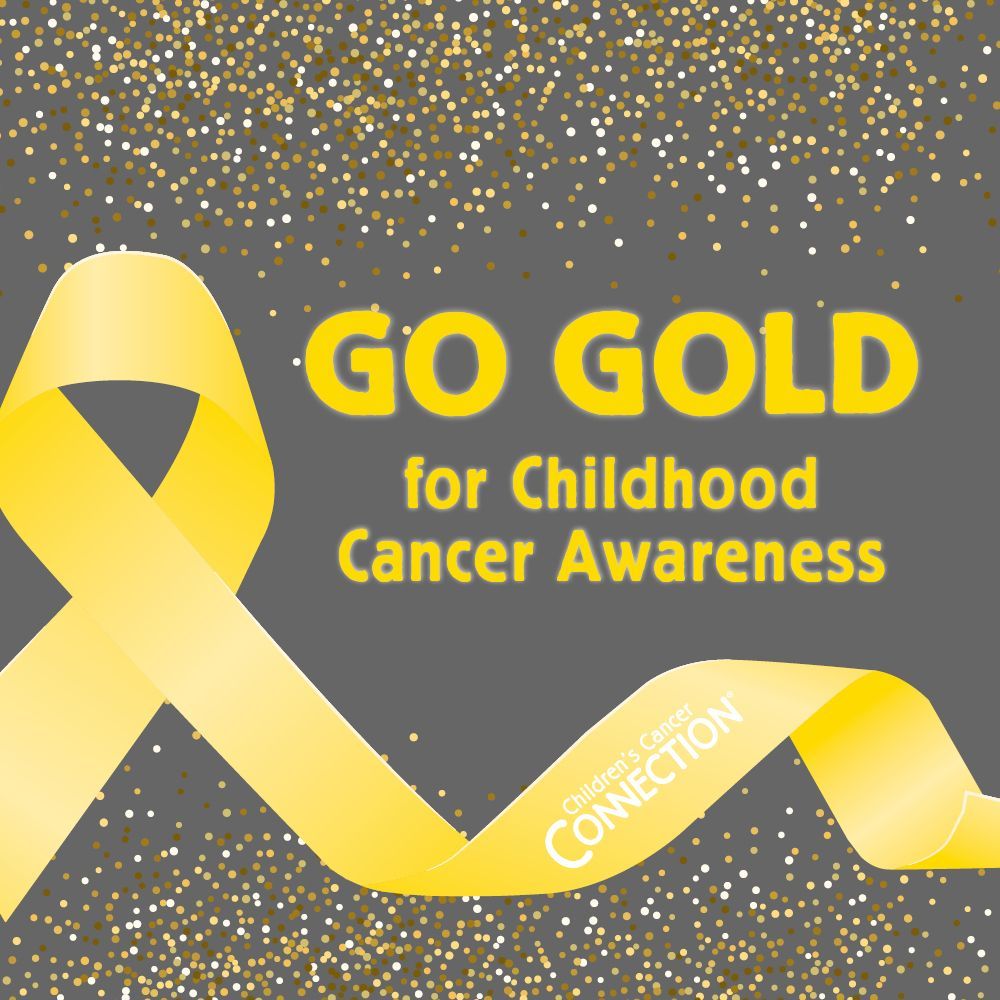 We're going gold in September for Childhood Cancer Awareness Month!
In an effort to increase awareness and raise funds for families affected by pediatric cancer, Childhood Cancer Awareness Month (CCAM) is internationally recognized in September.
Go gold with us! 
Show your support in honor and in memory of the many cancer warrior kids.
Here are some easy ways you can Go Gold:
1. Follow us on social media and help us spread the word. 
2. Be an advocate -- share news, posts, and stories. 
Showing your support means everything to families affected by childhood cancer.
Whether you comment encouraging words on our posts or change your social media profiles to Go Gold, it helps families see that others are in the fight with them. 
3. Join our Go Gold and Golf event, presented by Tito's Handmade Vodka. 
Not only can you have a fun time golfing and winning prizes, but you can support childhood cancer awareness while doing it! Sign up a team of four or honor a childhood cancer warrior with a sign on the course.
4. Take advantage of Go Gold special offers all month long. 
Many local businesses are already going gold with specials in September. Here's an example: 
Which Wich Spirit Night
(Ames, Ankeny, and Waukee locations)
20% of proceeds will benefit Children's Cancer Connection
Every Monday in September from 4:00 p.m. to 8:00 p.m.
5. Ask business owners, school officials, and your favorite teams to Go Gold.
Many of these groups are familiar with the idea of offering a special promotion, changing uniforms, or switching up signage during a certain time of year. Encourage as many places as possible to shine gold for childhood cancer awareness!
A good place to start is by sharing this blog, or send them the flyer we put together:
6. Shop CCC gear and wear your support.
We have a lot of great apparel and swag in our CCC shop. We ship directly from our Des Moines, IA, office and get it to you as fast as we can!
7. Donate to our CCAM campaign. 
Your support helps us provide free resources, programs, and services to the families we serve.
We also have different fundraising campaigns and monthly giving options that are incredibly helpful.
8. Volunteer with us and our partner organizations. 
We are always looking for help at fundraising events, Camp Heart Connection programs, and other opportunities throughout the year. Complete our volunteer application to get notified when we could use your help.
9. Keep an eye on our event calendar and attend events when you can. 
We have so many fun community events that support CCC and raise funds to help us serve more families affected by childhood cancer. Take a look at what's coming up and mark your calendar!
10. Join our email list for more news, updates, and information about how you can get involved. 
To stay in the know about our events and promotions before anyone else, join our mailing list.
The entire family. The entire journey. 
While many great organizations work toward finding a cure for pediatric cancers, our mission is to connect families affected by childhood cancer by providing opportunities that encourage relationships and strengthen community.
We're a 501(c)(3) nonprofit organization that relies on the generosity of donors and volunteers.