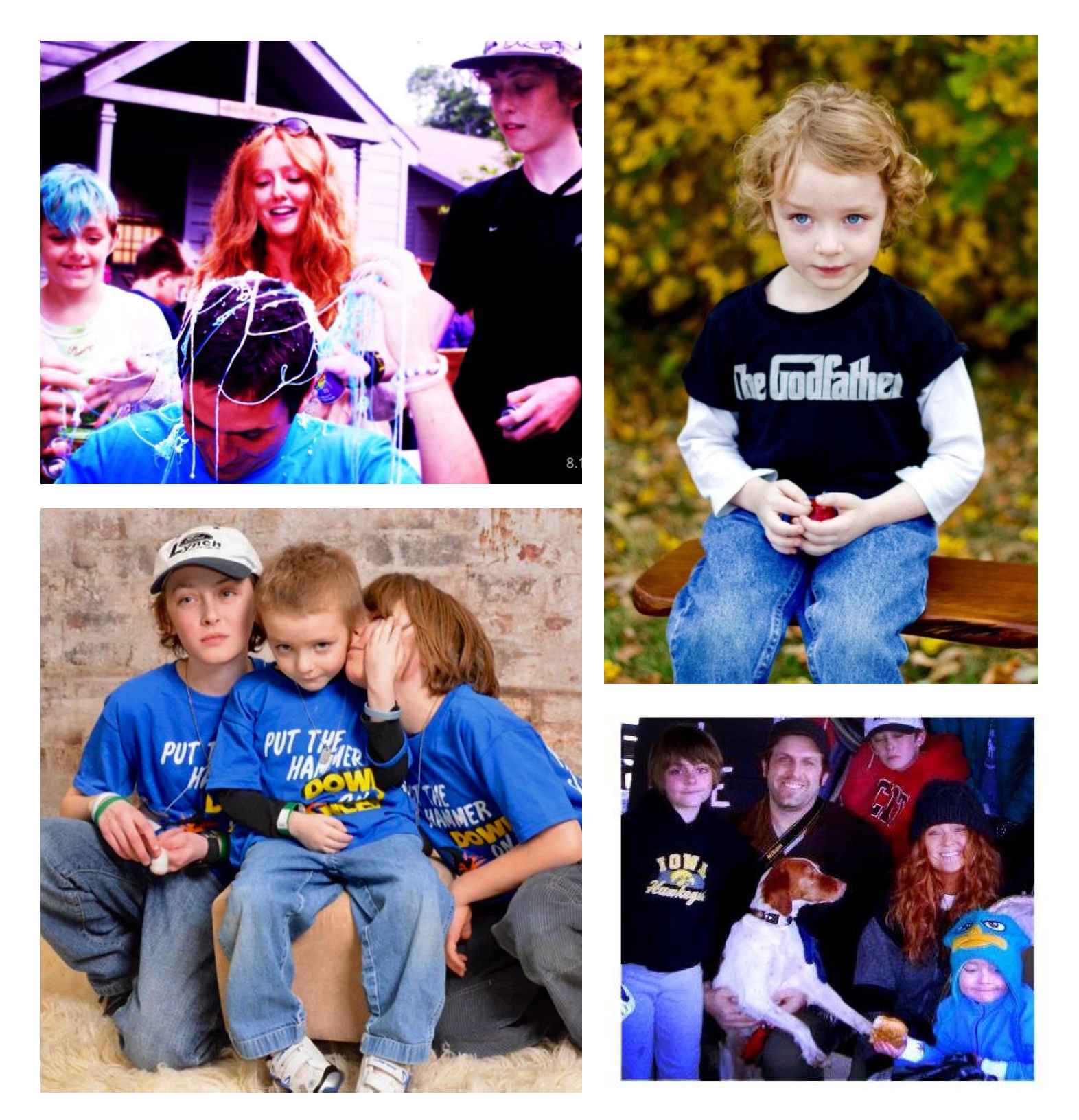 Hello! We are the Codd family!
We consist of Brian (Dad), Pam (Mom), Orson (19), Sumner (16), Dashiell (forever 5 1/2), Puppy the puppy and Devo the pooch. Currently we reside in Iowa City, but also have a home in Los Angeles, where Brian and Pam met while working in the film industry. In 2007 we took a break from our busy careers to raise our kids full time in Iowa (Pam got her BA in English from UI in '92), although we travel back to Cali frequently to see family and friends.
On March 2, 2012 Dashiell was diagnosed with a rare liver tumor called Hepatoblastoma. After multiple chemotherapies and surgery to remove the tumor at University of Iowa Stead Family Children's Hospital, he fell into a high-risk category for recurrence so we took him to specialists at Cincinnati Children's Hospital. New tumors were found in his liver and he received a liver transplant there. But, during a routine scan nodules were found in his lungs and after surgery to remove them their pathology results tested as the more aggressive and extremely rare Transitional Liver Cell Tumor, for which there is no cure. In an attempt to stave off the inevitable, Dashiell underwent 10 rounds of radiation and an experimental chemo. As with all of his treatments, he did not suffer. Except for hair loss, he never endured the expected routine side-effects such as infection, mouth sores, nausea or fatigue, nor one single episode of rejection from his donated liver. Despite these efforts, he succumbed on June, 17, 2013 at 5 1/2yrs old. To ensure his journey was not in vain, his post-mortem tumors were donated to scientific research. And, using his live cell line, scientists have identified the genetic marker that triggers his kind of cancer, which has has helped them in targeted therapy studies around the world for various childhood and adult cancers.
Dashiell had a blessed life, as sweet as any child could possibly dream. So, we choose to live with as much peace as possible knowing Dashiell's indomitable spirit lives on in the hearts of his family, friends and supporters. And, his legacy continues to be honored as we advocate for childhood cancer awareness. Since 2017 our family has been responsible for petitioning the state of Iowa to officially declare September as Childhood Cancer Awareness Month. We are involved with over a dozen Miracle Network Dance Marathon programs. We travel to speak with politicians, scientists, doctors, and lobbyists to appeal for increased government funding for pediatric cancer. And, two years ago we were appointed to a global advisory committee created by Children's Oncology Group and the International Society of Pediatric Oncology. We are forever grieving Dashiell's loss but our goal is to continue to share his life story and experience for the benefit of children's healthcare issues/needs. making as big of a positive impact as we can. Dashiell is very deeply, eternally loved.
We are incredibly appreciative that Children's Cancer Connection provides year-round programs to support all the members of families coping with childhood cancer. Only a couple of months after Dashiell died, Orson and Sumner were slated to go to CCC's Camp Heart Connection for siblings for the very first time. This was a tenuous experience as they didn't know a single person that was going to be there and they had no idea what to expect. At drop-off we could see in their eyes they were nervous. Midweek we had to pick Orson up to attend a new student orientation at school. To our relief he was elated by the experience he was having. He'd connected with others and was enjoying all the camp activities. After that one night at home he was happy to go back and finish out the week. For the next 6 summers Sibs Camp was something both boys enjoyed. They have now aged out, but look forward to a time when they can return as counselors. It's a place to embrace being a kid enjoying summertime activities, but also a place to heal through the support of peers and people who understood what these families are experiencing. Donors and volunteers have an enormous impact by the unique and powerful opportunities they create, providing valuable emotional and financial support. Considering all they have given us, we are sincerely grateful!
Pam, Brian, Orson, Sumner and *Dashiell*