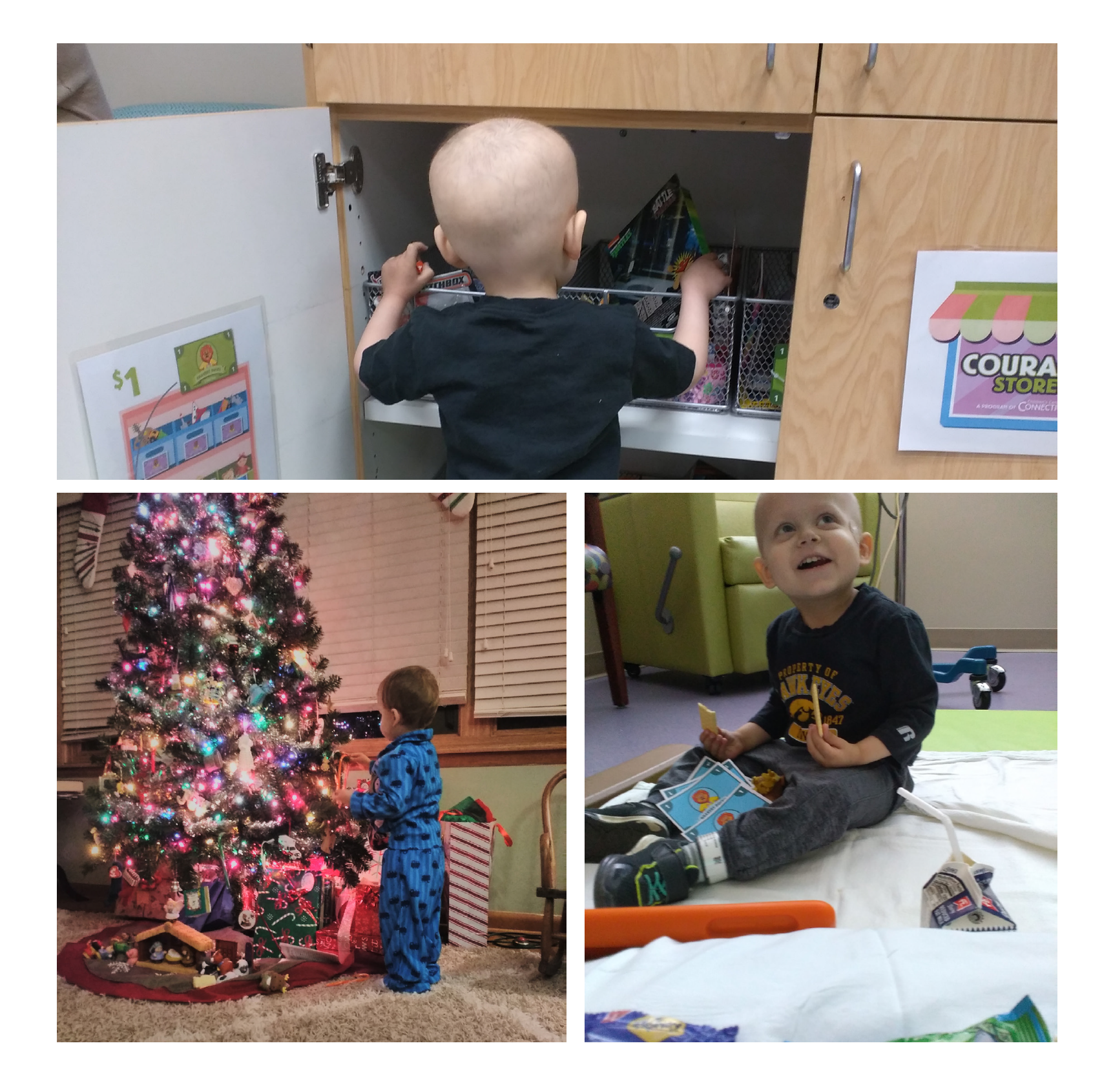 "Evan is a little neuroblastoma warrior who was diagnosed with Stage IV cancer at 13 months old. He experienced 18 months of treatment before passing away in May of 2020.
Evan spent about 184 days in the hospital during his treatment, and another 100 or so at the clinic and other outpatient appointments. Growing up as a toddler in the hospital and clinic isn't always easy! Germs are everywhere, and little hands love to touch everything - but they aren't allowed to! The medical world could easily have become an awful place for him, but by God's grace, it wasn't. He enjoyed going to visit his nurse, doctor, and Child Life friends, and that made such a difference for his quality of life during treatment!
One of the reasons he enjoyed visiting them is because of the work of Children's Cancer Connection. Evan was young when treatment began, but it wasn't too long before he was walking and talking like any other toddler. That's when he was introduced to Bravery Bucks! The Children's Cancer Connection program provides Bravery Bucks for the medical team to give to the kids as an incentive to get through difficult procedures and experiences. Then those Bucks can be used to go shopping in the "store" at the clinic. Evan enjoyed collecting his Bucks and picking out toys in the store. Sometimes the toys were for him, but sometimes we shopped for his big brother too! Getting to go pick out new toys and collect dollars was such a simple little thing, but it made visits to the clinic something to look forward to, and his brother was always excited to see what we brought home. We were away from his brother a lot, so taking steps to include him in the fun was important.
Children's Cancer Connection also reached out to our family last Christmas about being a part of their Adopt-a-Family program. We were nearing the end of treatment and weren't sure at first whether to accept the offer, but God knew what we needed before we did! Two weeks before Christmas we found out that Evan's cancer had returned. We knew then that it would probably be his last Christmas. We were thrust into a flurry of appointments, research, and decision making so that he could start chemo again just a few days after Christmas. We were exhausted, discouraged, drained, and had little time for shopping and wrapping presents. However, the CCC program provided presents from our list to our family and they were even already wrapped!
The generosity of those involved helped us to make Evan's last Christmas a fun and special one for him and his brother in spite of our surrounding circumstances, and it was an encouragement to our hearts during a very difficult time. We are very grateful for the ways that CCC impacted our family and our journey!"
-The Oppman Family