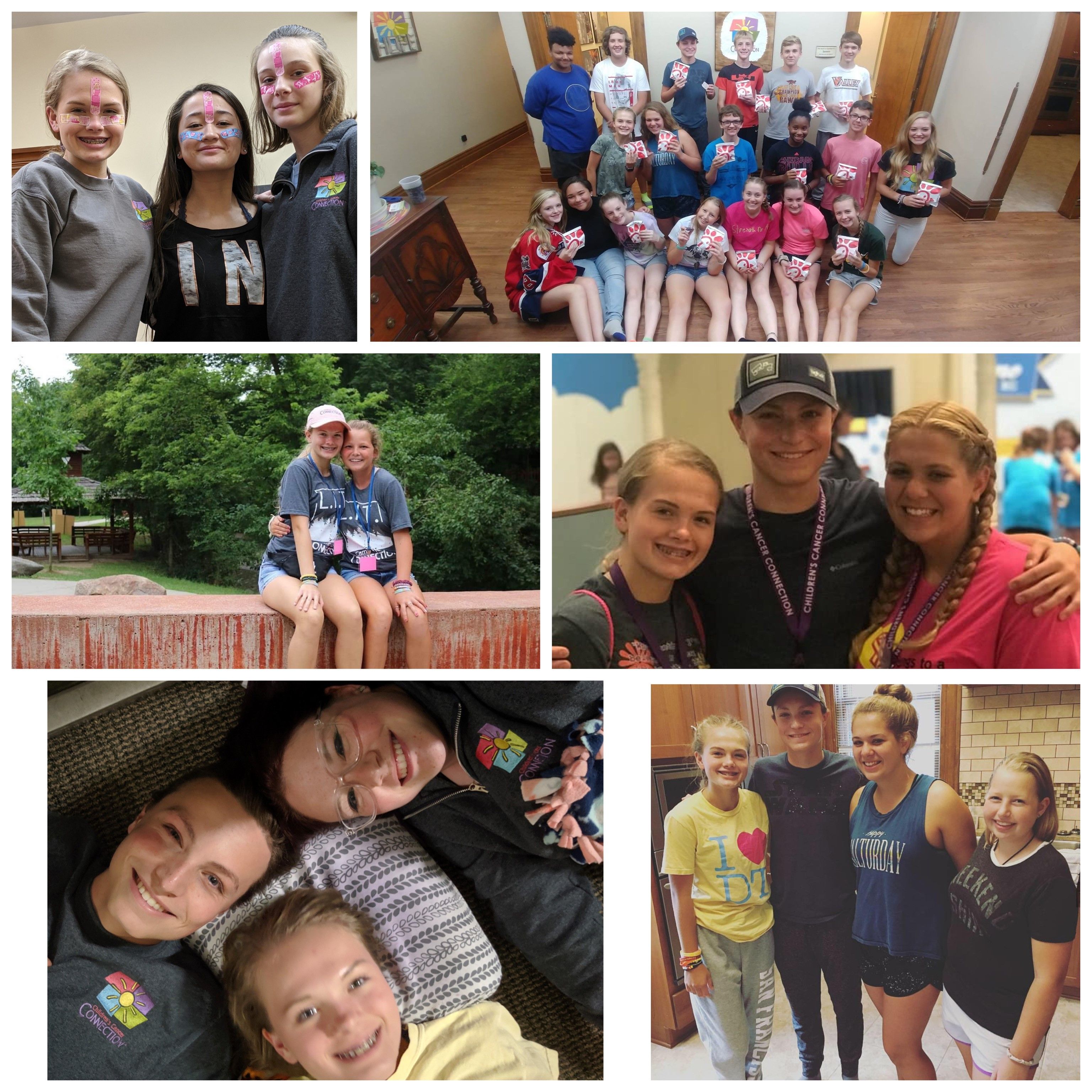 Hi! I am Genevieve Pietruszynski, a teen at Children's Cancer Connection! There are so many opportunities for us teens to get together, but let me backup for a second and tell you about my other teenage friends.
My greatest friends are those that I have met through Children's Cancer Connection and through camp. I have grown up with these people, they have helped me through some difficult times and have been part of some of my happiest memories! So it breaks my heart to only be able to see them once a year. Even though I live close to many of my good friends, it's hard to find a time and place for us to get together.
This is where Children's Cancer Connection comes in. This organization gives us amazing opportunities such as lock-ins and hangouts so that we get chances to see each other. Hangouts are a great way to catch up with each other. The hangouts happen about once a month, and it is so fun to be able to be with each other and catch up each month. In the words of my fellow teen Will Krueger, "they are like mini lock-ins...I'm happy to see my friends from camp." Which leads me to my favorite teen event!
Lock-ins are probably one of the best teen activities!! They are as close as you can get to a night at camp. One thing is that all teens can participate which allows for us teens to meet and create bonds. What does a typical night look like? Well first, everyone arrives. We set our stuff down, including our pillows and blankets (which we brought for sleep that would not occur). Then chaos erupts and teens are everywhere spread throughout Hansen Home for Hope! There are always video game battles all through the night! My personal favorite is Mario Kart. And of course there are movies playing in several different places. Some rooms are filled with daring souls watching a horror film or if you are more into way less scary things, a romantic comedy will be playing in the room I am in. And for everyone's enjoyment tons of snacks and pizza is always in supply! There is at least one group activity so that we can meet new people!
I am so happy I started going to lock-ins because I met one of my best friends at my first one! Of course, I also get to see one of my oldest and closest friends, we actually planned to go together our first time. Now I can't wait to see them both at every one. Moving forward in the night, once the clock hits 12:00 am you can start to feel the pull of sleep after partying hard for five hours! But it is an unspoken rule that at a lock-in you have to try your hardest to never fall asleep! Sadly there are many who curl up on a couch, with a sleeping bag, or in a tiny hallway. But before that point there is a lot of caffeine, singing, and many many laughs!
We also must catch each other up so we have our "tea" seasons. Now "tea" is like drama or like things that have happened that we have to inform each other of. So I like to sit in a circle with all of my friends while we spill the tea, so to speak. We have such good times just talking about everything that has been keeping us busy for the past couple months. Another fun part of the night is making tik toks at 1:00 am or singing karaoke. I personally enjoy using the elevator for an intense game of hide and seek throughout the house. I love laughing with my friends and getting amazing advice from my favorite counselors.
Being able to see these people throughout the year makes me so happy. It gives me a chance to, in the words of one of my friends Lindy Krammer, "see old friends" while also meeting new ones. It gives me more opportunities to have fun with some amazing people and further relationships with people I would usually only get to see once a year. I love having the lock-ins to look forward to, they are truly so much fun.
Children's Cancer Connection has given me such amazing teen events to go to and each is filled with such joyous, humorous, and sentimental moments that I use to get me through the year, until camp, of course.