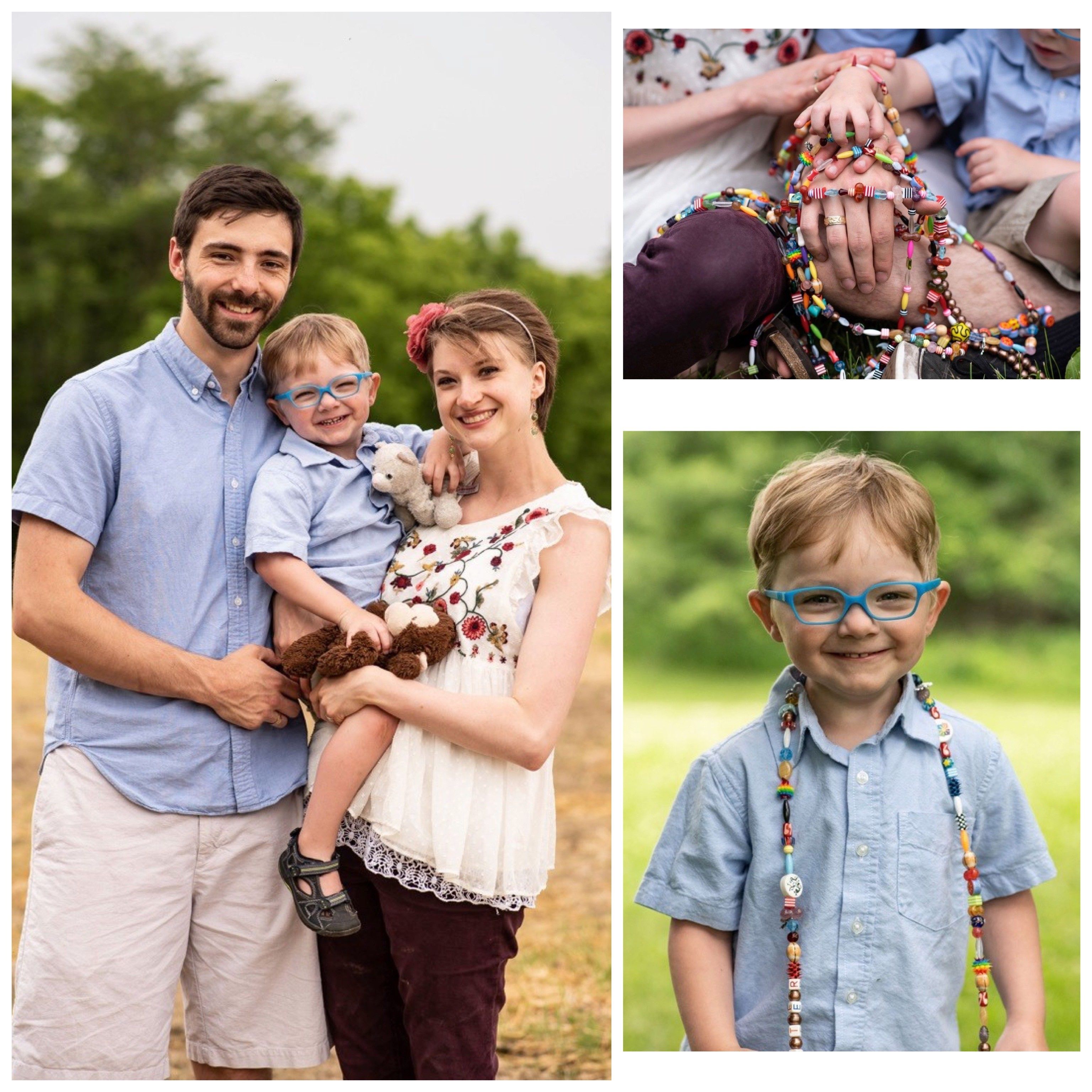 Hello, we are the Schmidt family from Coralville, Iowa. Our son Carter was diagnosed with a rare form of leukemia called Juvenile Myelomonocytic Leukemia, or JMML, at the age of 9 months. The doctors determined the best course of action was to receive a bone marrow transplant, which involved some of the most intensive chemotherapy around, along with targeted radiation to help reduce the size of his spleen in preparation for the procedure.
Immediately after diagnosis, Carter went into surgery to have a Hickman (or "central line") inserted for easy administration of medicine and blood draws. We were in and out of the hospital for 3 months before we received the news that they had found a donor for him! The date was set for August 3rd. However, on August 2nd we received the news that his donor had contracted shingles and could not donate until his lesions were cleared. With the help of medication, he healed quickly and we ultimately had his transplant on August 9th, just 2 days before Carter's first birthday.
After the long 2-month hospital stay, Carter went in for another surgery to take his Hickman out and replace it with a port. This port worked for about a week until it stopped drawing blood. After a second surgery in one week, he had an effective port. This port was a blessing; it allowed us to take baths without worrying about infection and allowed him to play without fear of dangling cords.
Since August 9th, 2017, we have only stayed at the hospital once for a few days because of a minor fever. Carter was able to go back to day care 1 year post-transplant and has since been thriving with his friends! He is about to turn 3 and is living a happy life. He enjoys anything with wheels (trains, cars, buses, trucks) and is a little water boy. A short 2 years after transplant, the cancer is but a horrible memory. With the exception of a couple scars, Carter shows no signs of ever having gone through this.
One of the things that helped us the most after the transplant was the incredible support we had from family and friends. Some of our closest friends set up a meal train so we would have a dinner ready for us every night. Making friends with other families in the hospital was also a huge help. We quickly realized that we were not alone. Children's Cancer Connection helped us even more with that. Getting into contact with other families who had conquered this battle was huge for us. We talked with them about all the struggles we would face and the victories along the way.
We have been blessed to be able to share our story at Liberty High School Dance Marathon, University of Iowa's Dance Marathon, several tabling events for Be the Match, a personal blog that Tiffany has written, a video through the University of Iowa and The Bone Marrow Survivor Day. Last October, Tiffany raised money and shaved her head to raise awareness for pediatric cancer through St. Baldrick's. Ultimately, she would like to work at Be the Match and recruit new potential donors for the bone marrow registry. 
To stay up to date on Carter's journey go to: carterscancerjourney.squarespace.com