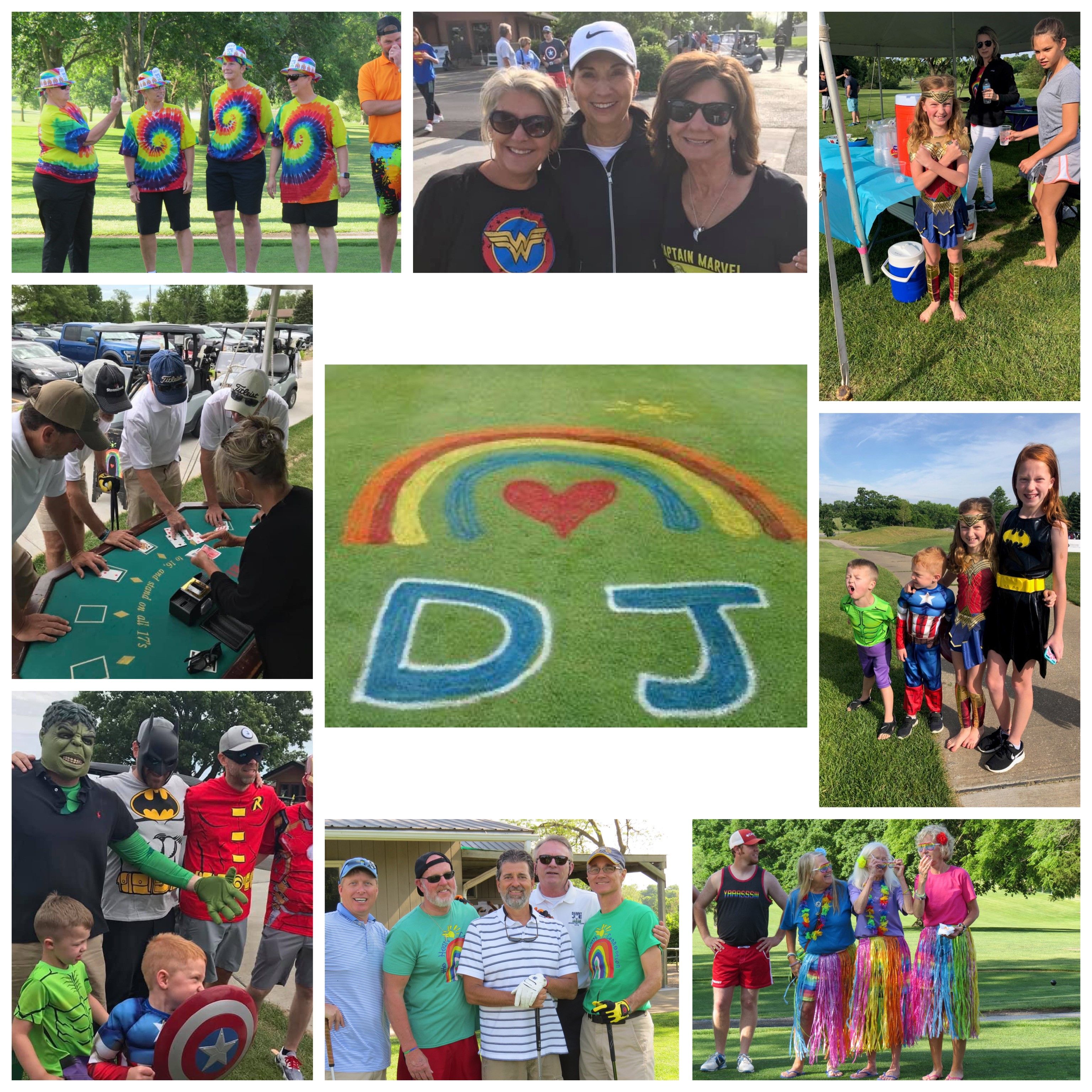 The Danny Joe Memorial Golf Tournament is one of Children's Cancer Connection's biggest supporters.  Named after Danny Joe Cornish, who was a camper at Camp Heart Connection, this year was the 23rd annual event. We sat down with Billy, Danny Joe's mom, and John, Danny's brother, to see how they feel about how the event has evolved over the past 23 years. 
Tell us about Danny Joe. How did the tournament come about?  How has watching it grow over the years felt?
Billy: Danny was a sweet, loving, smart and funny little boy who was wise beyond his years. He had his priorities more in line than most adults.  He loved his family and told us and showed us that every day. He wanted to enjoy every day to the fullest, even when times were rough. Danny and his brother John could figure out a way to have fun anywhere. He never complained about his treatment as long as we had a plan as to what we were going to do for fun when he stopped "barfing." For example, playing Mario Brothers and ordering pepperoni pizza from Dominos, filling up latex hospital gloves with water and then poking holes in the fingers, sending dad out to get food from Taco Casa. During the Christmas season our plan would be to go to Valley West Mall to ride the Christmas train, talk to Santa and then get a "fat pretzel" and a root beer. He loved to play with his brother John and his baby sister, Kelli. He loved fishing and playing on the beach in Florida.

The tournament came about because of my sister, Deb Fisher. We played in a golf tournament that a local radio station was putting on for The Heart Connection.  When my sister asked me how much money was raised, she said, "We should do our own tournament. We can raise more money than that!" So Deb and her two best golf buddies took care of the planning and delegated jobs to all of Danny's family members. She headed up 22 years of successful tournaments in Oskaloosa, Iowa, raising between $8,000 and $10,000 every year. We are so grateful to the citizens of Oskaloosa and the surrounding area who loyally supported our cause for so many years. 

Family members come from all over the country each year to help with the Danny Joe Golf Tournament - Florida, Georgia, Colorado, Minnesota, & Illinois.  In 2019 Danny's big brother John and his wife Meg took over leadership of the tournament moving it to the Quad Cities. We raised nearly $20,000. Not bad for the first year at a new location. 
 
 It has been so amazing watching the tournament grow over the years. It is such a special way to honor Danny's memory. Working together to help other families affected by childhood cancer has helped our family to heal.  It feels so good to be surrounded by family and friends on tournament day! We always have a big family gathering the day after to celebrate and to talk about ideas for next year's tournament.

 
What are some of the memories you have specifically of Danny Joe? 
John: He always had fun, always tried to lift everyone else even when he wasn't feeling well.  He had an immediate impact on anyone he had contact with.
Billy: Danny was in ICU for about a week. When he started to feel a little better we started drawing and coloring fish. Then the fish, sharks, & whales started to appear on the wall opposite his bed, (even though we were aware of the no tape on the walls rule.) After a couple of days the wall from floor to ceiling was covered with a colorful ocean. Another favorite activity when we were in-patient or just waiting around during an office visit was to use large syringes as water guns.

Danny was an expert Mario Brothers player. He used to beat most everyone he went up against. Staff would come in on their breaks to play him. 

Danny spent about 10 days in the hospital up in Rochester. His special friend, Deli Lampe, brought him a spin art kit. He made lots of spin art pictures, signed them, and sold them for $2 a piece to the mob of medical students who would come in every morning.

 
What are your thoughts on the outcome of the tournament this year?
Billy: John and Meg did a great job with the tournament this year. We had such great support from family, friends, John's employees, co-workers and business associates and the staff at Palmer Hills. When John welcomed the crowd of golfers, he told them to have fun, be kind and enjoy each other because that was the way Danny Joe lived every day.
John: Tickled to death with the outcome, and feel extremely grateful for those that played, donated, and helped.

How does it feel to know you've created something that has had such a momentous impact? What does this mean to your family? 
Billy: The younger family members love tournament day because they get to play with all of their cousins. They have heard stories their whole lives about "Uncle Danny" and they understand the purpose of the Danny Joe Tournament. We give the little ones jobs, but mostly they just play!  It has been a great experience for them to learn the importance of helping others.
John: It's a weekend that we can get together to raise $$ for an organization that has done so much and means so much to our family.  On top of that, a time each year that we can remember Danny and get our entire family together.  Our entire family looks forward to it every year.

What are some of your earliest memories you have of working with Camp Heart Connection?
Billy: When you ask any of the Cornish kids about Camp Heart Connection memories, they always talk about Deli Lampe, the woman who started the organization. She had a relationship with every family.  She spent time with them at the hospital, took them to concerts, sporting events, monster truck rallies. She was right in the middle of all the fun with the kids at camp. John talks about how much Deli helped him after Danny died. We helped each other as a family, but we were all grieving. Deli was there for all of us in the months and years after Danny's death. John, Kelli and Matt all attended sibling camp until they were too old and then they volunteered. They all have made life-long friends at camp.
John: Dam building, repelling, and mud slides!  Deli was an incredible person.


What are some of the biggest changes/growth you've seen in CCC over the past 31 years?
Billy:  The CCC has grown in a positive direction over the years. Although Oncology and Sibling Camp are still a priority, they offer so many more services to help families deal with all aspects of childhood cancer. The slogan, "The entire family, the entire journey" is a very good description of what CCC has become.

How does it feel to know you helped in the very beginning of creating an organization that has such a strong connection all over Iowa.  What does it mean to you when you run into other people that know about Camp Heart Connection, Danny Joe, Children's Cancer Connection?
Billy: It makes whole family very proud. People all over the country have recognized the camp rainbow logo that we proudly wear. It feels so good to meet other people who are connected to CCC, and to tell them that our son drew the beautiful rainbow logo.
John: It's a trip everytime I see a t shirt that uses the logo that Danny drew so many years ago.  We know that Danny will be remembered because of the impact that my parents and he had on this organization and how many families it has had an impact on.

As a parent of a child diagnosed with cancer.  What does being part of the CCC family mean to you?
Billy: There are many people who support you and hold you up during your journey with childhood cancer, but the truth is there is no one who can help as much as someone who has lived it. We have a very special connection with those people.

What do you envision for the future of Children's Cancer Connection, specifically with the Danny Joe Memorial Golf Tournament?
Billy: John and Meg would like to head up the Danny Joe Tournament for many years to come and then hopefully hand it over to one of their kids. It is very important to our whole family, and we look forward to many more years of the DJT.
John: Just getting started with the tournament in the QC.  We are kind of "all in" people; we want this to be an event that people look forward to each year, have a great time, remember Danny and what he taught us about life and raise $$ for a great organization.