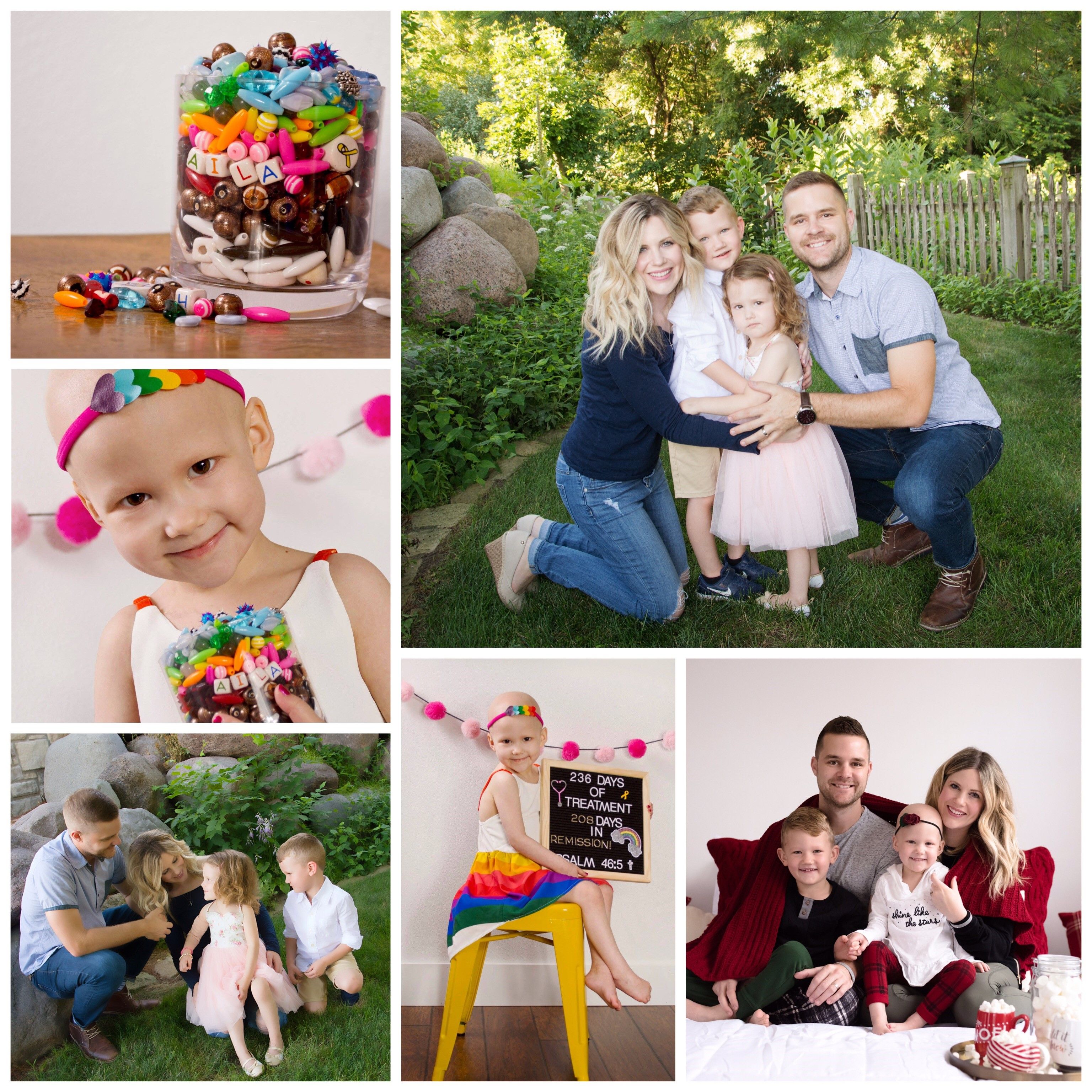 Aila Nesbitt (pronounced: A-luh)was diagnosed with B-Cell ALL Leukemia in July of 2018 when she was just three-years-old. In the weeks prior to her diagnosis, Aila had been fighting several colds and fevers off and on, and had coincidently hurt her knee while playing on the trampoline (one of her favorite activities). Out of precaution, Aila's pediatric doctor decided to run blood tests to make sure nothing more-serious was going on; several days later, we were called in over the weekend for additional testing and x-rays as her counts were slightly off. 



Two weeks (and several trips to Urgent Care) later, we were still waiting for answers while Aila's persistent illness still remained a mystery. After our third trip to Urgent care, reassuring us it was likely a piggyback virus, Aila's fever spiked to 105 degrees. We turned right back around this time to the Mercy ER, and from there after bloodwork, she was rushed by ambulance to Blank Children's Hospital in Des Moines, Iowa where we met with the hematologist/oncologist staff. Several days later, we were stunned by the words we were told: "I'm sorry, but It is Leukemia."



Aila is currently being treated at Blank Children's Hospital, where she has been receiving chemotherapy on a weekly basis. Her high-risk treatment plan has involved several blood transfusions, multiple sedations for bone marrow biopsies, lumbar punctures, countless pokes, pills, and tears than any three-year-old should ever have to endure. On her third round of Pegaspargase chemotherapy, she went into anaphylactic shock and was hospitalized in the PICU for several days. This changed the course of her original treatment plan and received the alternative chemotherapy, Erwinia, which required six times as many infusions. 



We are so proud of the progress she has made and the obstacles that she has overcome throughout this journey. During her first month of chemotherapy, she lost the ability to walk due to leg neuropathy, and needed leg casts for five weeks, to combat the effects from the chemo; she currently has around 6 months of leg braces, but through weekly physical therapy, she has slowly regained the strength to walk (and jump and dance)! She is also as selfless as she is strong always asking about others if they are ill or not feeling well, and even wiping away Mommy's tears on really hard days, saying, "It will be ok Mommy."



Although the prognosis is hopeful for this type of cancer, we anticipate there will be many ups and downs over the next two years. I thought after 6 months the pokes, pills, and sedations for our little girl, everything overall would get 'easier.' The truth is, it hasn't gotten easier at all. Our lives are forever changed as we continue on this journey with Aila for a cure and try to adjust to a new 'normal.' We are beyond blessed that God chose us to be her parents and pray she will do amazing things with her brave story through her own cancer journey, by helping others going through similar experiences. She is a fighter and will continue to show the world that faith is bigger than fear.