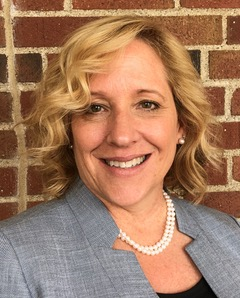 Jennifer Hines Named Chief Executive Officer at Children's Cancer Connection
Friday, April 26, 2019
Des Moines, Iowa
After an extensive search, the board of directors of Children's Cancer Connection has selected Jennifer Hines to succeed Mark Slocum as the organization's next CEO.  Hines comes to Children's Cancer Connection after serving for the past 12 years as the Director of Operations and Finance for Plymouth Congregational Church in Des Moines.
"Jennifer shined amongst a deep pool of interested and highly qualified candidates," said Michael Currie, Chairman of the Board of Directors. "She has been a successful executive in her previous roles. Even more important, she is a great fit with each of our four core values, which we use in our hiring process.  We are delighted that she has accepted the position."
Current Executive Director Mark Slocum will be retiring after serving the organization for the past 27 years. "It is a bittersweet time for me," Slocum said. "I have deeply enjoyed working with families on their childhood cancer journey and all of the donors and volunteers that make our work possible, but there comes a time to pass the baton to the next leader to take the mission to new heights. I am excited to support Jennifer as she runs the next leg of the race."
Hines added, "I am delighted to join the team at Children's Cancer Connection. Mark and I will be working together to ensure a smooth transition of leadership. We'll celebrate Mark's legacy and get ready for this exciting new chapter."
Children's Cancer Connection has provided opportunities for families affected by childhood cancer to connect through recreation, education, and support programs since 1988. The organization serves any family living, treated, or diagnosed in Iowa. Families interested in learning more may contact info@childrenscancerconnection.org.