HERE FOR OUR FAMILIES
At the Jeff and Deb Hansen Home for Hope, Children's Cancer Connection will strive to meet the unique needs of your child and family during and after treatment. You can use the Hansen Home of Hope to:
Take a short break away from the hospital while you kids play. 
Host a birthday celebration or family gathering.
Burn off a little energy in our exercise room.
Take a nap, read a book, listen to music, or watch a movie in the parent room.
Call us at 515-243-6239 with any questions!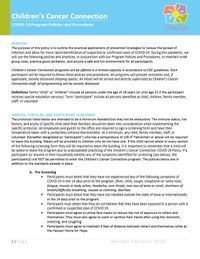 ______
COVID-19 POLICIES AND PROCEDURES
Children's Cancer Connection is committed to providing a safe and healthy environment for all of the children, campers, families, staff, and volunteers we serve.
Please click the image to the right to review our Children's Cancer Connection's Hansen Home for Hope COVID-19 Policies and Procedures.
______
WISH LIST
A fun and important way to support Children's Cancer Connection is to donate items from our Wish Lists. Donations can be dropped off at our office, Monday through Friday 9:00 a.m. to 4:00 p.m.
If you have questions about items you'd like to donate email support@childrenscancerconnection.org
Click the image below to download our Jeff and Deb Hansen Home for Hope Wish List.